The Importance of SEO in IT Marketing
The Importance of SEO – SEO is a key player in IT marketing. It boosts visibility and connects your digital content with the audience. At Plexus Communications, we ensure SEO aligns your solutions with customer needs. This enhances your brand's credibility in the IT sector.
The Importance of SEO for Sustainable Business Growth
Being discovered independently drives business growth. SEO is central to this, attracting organic traffic effectively. It ensures long-term benefits and a foundation for continuous digital evolution.
The Role of SEO in Enhancing Online Presence
A strong online presence is vital for success. SEO brings your website to the top of search results, making your brand more visible. Plexus Communications uses SEO to make your brand a beacon of expertise in IT marketing.
SEO: A Vital Tool for IT Marketing Efficacy
SEO is essential for effective marketing. It attracts, engages, and converts your audience. Focusing on SEO helps IT marketers create campaigns that resonate and convert.
Strategies to Capitalise on the Importance of SEO
Strategic SEO combines technical know-how, content marketing, and link-building. Plexus Communications uses data to ensure every SEO element boosts your online profile.
SEO Best Practices: Key to Unlocking Market Potential
Adhering to SEO best practices unlocks market potential. Optimize for keywords, ensure mobile-friendliness, and provide valuable content. Plexus Communications leads the way in enhancing your SERP rankings and establishing your brand's market leadership.
Within the sphere of IT marketing, SEO is the beacon that guides potential clients to your services. Boasting over three decades of experience, Plexus Communications has honed the art of SEO to ensure that IT vendors, distributors, and resellers not only appear in search results but reign supreme. By focusing on 'The Importance of SEO,' we've witnessed businesses metamorphose from industry participants to industry leaders.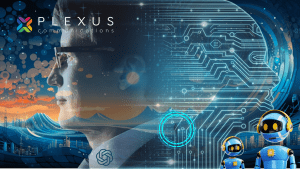 B2B Marketing
Navigating the Shifting Tides: The Evolution of Sales and Marketing in a Rapidly Changing World The pace at which the world is changing is breathtaking,
Read More »
IT Marketing Agency
As we stand on the cusp of a new era, the IT industry is buzzing with anticipation. With a projected 8% increase in global IT spending in 2024, the landscape is ripe for innovation and growth. But are you prepared to harness this wave of opportunities? This comprehensive guide will walk you through the key areas to focus on as you plan for a prosperous 2024.
Read More »
IT Marketing Agency
IT Marketing Content Creation simplified! Learn how to elevate your tech brand with easy-to-follow content strategies. SEO tips included!
Read More »