Connecting IT Resellers with Engaged End Users through Paid LinkedIn Campaigns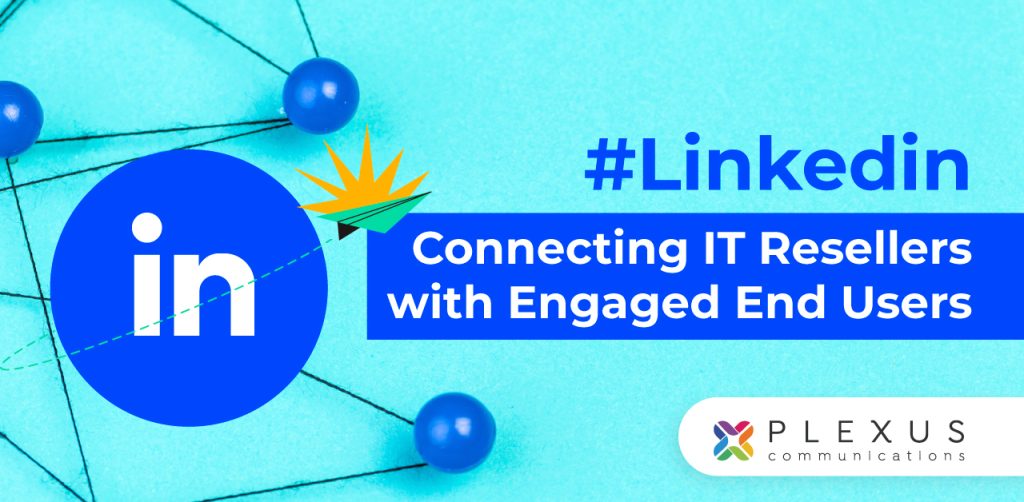 Expanding their client base and acquiring new end-users is a challenge for IT resellers in the highly competitive UK market. The traditional method of relying solely on cold calling and emailing has become increasingly difficult due to the overwhelming amount of marketing messages consumers receive and their resistance to unsolicited outreach.
In this digital age, potential clients have the power to find answers and solutions to their questions with just a few clicks. To capture their interest, it's crucial to strategically position your brand in front of them digitally. 
For IT resellers seeking genuine connections with potential end users who are actively interested in their offerings paid campaigns on LinkedIn present a powerful solution. With precise targeting options and comprehensive advertising features, LinkedIn offers an effective platform to engage with end users in the UK who are specifically interested in the IT solutions you provide. 
In this blog post, we will delve into the benefits of leveraging paid campaigns on LinkedIn for IT resellers. We will explore how these campaigns can help you reach your target audience, build brand awareness, and generate valuable leads from engaged end users. Discover how LinkedIn can be a game-changer in your marketing strategy and propel your business forward in the digital landscape.
Precise Targeting Capabilities

 LinkedIn's paid advertising solutions allow IT resellers to define their target audience precisely. Through advanced targeting options such as industry, job titles, job functions, company size, and interests, you can ensure your ads are seen by the right end users in the UK who are likely to be interested in your offerings. By narrowing down your audience based on relevant criteria, you can maximise the impact of your campaigns and ensure that your message reaches those most likely to engage with your IT solutions.
Engaging Sponsored Content


Sponsored content on LinkedIn enables IT resellers to promote their offerings directly to the news feeds of targeted end users. Craft compelling and informative content highlighting your IT solutions' benefits and value. By leveraging LinkedIn's targeting options, you can ensure your sponsored content is shown to end users in the UK who match your ideal customer profile. This approach increases the chances of capturing their attention, generating engagement, and driving them to explore your offerings further.
Utilising Lead Generation Forms


LinkedIn's lead generation forms seamlessly capture valuable information from end users interested in your IT solutions. You can simplify capturing leads and gathering relevant data by including lead generation forms within your sponsored content. When end users express interest in your offerings by clicking on your ad, a pre-filled form will appear, making it convenient for them to share their contact details. This allows IT resellers to generate high-quality leads from engaged end users who have already shown interest in their offerings. However, it's important to note that many businesses often skip the initial stages of awareness and consideration, jumping straight to the conversion stage by focusing solely on the form. This blog post will highlight common mistakes and provide insights on optimising the entire ACC (awareness, consideration, and conversion) process.  

https://www.plexuscommunications.co.uk/the-top-5-mistakes-companies-make-when-using-linkedin-advertising

Retargeting Engaged Users


LinkedIn's retargeting capabilities enable IT resellers to stay top-of-mind with end users who have already engaged with their content or website. By placing a LinkedIn Insight Tag on your website, you can track and create custom audiences of users who have shown interest in your IT solutions. Utilise this feature to deliver targeted ads to those users, reminding them of your offers and encouraging them to take the next step in their buying journey. Retargeting campaigns help reinforce your brand, maintain engagement, and increase the likelihood of conversion.

Detailed Analytics and Optimisation


LinkedIn provides comprehensive analytics and reporting tools that allow IT resellers to measure the effectiveness of their paid campaigns. By analysing metrics such as impressions, clicks, engagement rates, and conversions, you can gain valuable insights into the performance of your campaigns. This data enables you to optimise your targeting, messaging, and budget allocation, ensuring that your ads reach engaged end users and generate the desired results. Continuously monitoring and refining your campaigns based on analytics helps improve ROI and maximise the impact of your advertising efforts.
The Bottom Line: 
Paid campaigns on LinkedIn provide IT resellers with a powerful avenue to connect with engaged end users in the UK market. With precise targeting capabilities, compelling sponsored content, lead generation forms, retargeting options, and detailed analytics, LinkedIn's paid campaigns empower IT resellers to reach their desired audience effectively. By leveraging these features, IT resellers can increase brand awareness, generate high-quality leads, and foster meaningful engagement with end users genuinely interested in their IT solutions. While LinkedIn campaigns cannot replace the role of a salesperson in building relationships and nurturing opportunities to closure, it does excel at identifying the right prospects and enabling sales teams to convert them into clients. 
Feel free to reach out if you want to explore how these strategies can align with your business. Let's talk about how you can leverage the power of LinkedIn to drive your business growth.